WARNING! THIS IS AN INCOMPLETE PAGE AND IS SUBJECT TO REBOOT AND REWRITES FOR THE CURRENT MOMENT! IF YOU HAVE ANY QUESTIONS, PLEASE CONTACT THE ARCH-MAGE.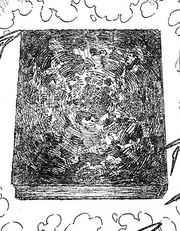 Grimoires are unique objects that appear all throughout the world and that are tied fundamentally with Magic. The 'introduction' to the craft for many new augurers, grimoires are books that materialize near high concentrations of magical energy, in other worlds, where gateways to Yetzirah itself can be opened purely by accident. A standard grimoire contains basic instructions within it, enough so that anyone who follows them will undoubtably become an augerer. These instructions range from basic Reaching and Breaching to the use of seemingly random and yet simple Spells. The use of the Spells with the grimoire are what defines them, seperating them from each other and making them stand out: no two grimoires have the same type of basic Spells within them, and the Spells that are within them will determine the type of Magic that the new augerer will use for the rest of their life. Because of this and their ability to turn an ordinary person into an augurer, they are highly prized possessions, and are often kept by their original finders as 'good luck charms', as well as mana storage units and as a basic component of Spells, as all rituals that involve the user's main type of magic will inevitably involve their grimoire if possible, since it can increase the connection between the user and their magic. In order to better control the flow of augurers and prevent any madmen or murders from accidently acquiring them without their knowledge, the Magocracy employs specialized augurers known as Grimoire Hunters in order to hunt down and acquire Grimoires to be dispensed at the Magocracy's leisure. They are generally equiped with the ability of Grimoire Hunt, allowing them to 'sense' and 'see' where grimoires might appear, and large concentrations of magical energy in general.
A great variety of augurers will modify the shape of their grimoire in order to make it easier to carry around, from shrinking it to store within a necklace to reforging it as part of their clothes themselves. Evren Madwood has shown the ability to combine the grimoire with a traditional magic staff in order to form a different weapon in the form of his Wand Blade Zaulige.
While any member of the normal Races can hypothetically use a grimoire and become an augurer, it is unknown if monsters possess the ability to use them and become Faux Augurers.
Known Grimoires
History
Gallery
Trivia